The countdown to the 10th Anniversary of the wildly popular and highly anticipated Vancouver Craft Beer Week festivities is on!
This annual event is definitely one that many local (and out of town) craft beer enthusiasts have circled on their busy events calendar and for good reason! It's ten days of non-stop, fun-filled beer festivities and related events that begin on May 31 with the can't miss Kick Off Party and will continue throughout the week with events and programming all over the city. It all culminates at the historic PNE Fairgrounds on Saturday, June 8 and Sunday, June 9 where an estimated 15,000 festival goers will have the opportunity to sample from an extensive list of over 300 offerings from breweries and cideries around BC and beyond!
When they say, "Time flies" I imagine the handful of beer enthusiasts that founded Vancouver Craft Beer Week would wholeheartedly agree that it feels like just yesterday that they were sitting around, after the 2010 Olympics came to an end, discussing their dreams of a week-long event that would showcase "real beer" made right here in BC. They brought their dream to fruition and hosted the first event later that year at Heritage Hall on Main Street. With a mere 15 craft breweries pouring their wares and 100 attendees taking it all in, I'm sure if you had told them then, that the event would evolve into what it is today, in just 10 short years, they would have had a good laugh. Well…here we are. As Joe Wiebe, one of our founders here at BC Ale Trail would say, "The craft beer revolution is clearly alive and well here in BC"!
So what is in store for the 2019 edition? Want to find out what events tickle your fancy? Well here is a bit of a taste for you to peruse so that you can start booking off the necessary day in June or at least preparing your excuses for why you might be rolling into work a bit rough around the edges on a few days in early June.

VCBW Kickoff Party at Beaumont Studios – May 31st
With this being the kickoff celebration of the milestone anniversary, you know it's going to be one heck of a party! Guests are encouraged to dress up in their shiniest silver outfits in honour of the Aluminum Anniversary while they groove the night away to the sensational sounds of Mark Woodyard, Coach Fernley and K-Tel. All while enjoying an extensive selection of canned beer from over 40 BC breweries including the official festival collaboration beer "10" created by Four Winds, Dageraad and Powell. As a bonus to all this, it's also ArtSee night! Take some time to appreciate the creative minds of local artists whose work will be on display for your viewing pleasure!
Tickets are just $25 and are available here along with further details about the event.
City Wide Events – Various Locations – May 31 to June 8th
Around town, you will find a number of venues taking part in the festivities during Vancouver Craft Beer Week. With trivia nights, beer pairing dinners, tap takeovers, tours and full-on festival nights, there is bound to be something for everyone. You can check out the entire list of events here but I'm going to breakdown couple for you.

SOUR BEER SEMINAR W/ IAIN HILL – STRANGE FELLOWS BREWING – June 5th
Strange Fellows' co-founder Iain Hill has a long-standing love of Sour Beer. Join him for an informative evening where you will learn about the history and making of Sour Beer and enjoy the opportunity to taste a pre-release of this year's Lil Red One, a limited release black currant sour over a year in the making!
Tickets are $55 and are available here.

FORBIDDEN FRUIT – DEVIL'S ELBOW ALE & SMOKE HOUSE – June 6th
This annual sellout event is in its fifth year and features enough fruit and sour beers to make any wine or cider lovers convert to the dark side of beer fanaticism! Featuring 20+ beers from 23 breweries, your ticket price includes ten tickets valid for both beer and food. The full food menu is also available and trust me when I say, you should definitely give in to the cravings when you smell all of those aromas of smoked meats wafting through the air!
Tickets are $45 and are available here.

BEERS ON BOARD – MAGIC YACHT CHARTERS – June 7th
Take a 3-hour sunset tour around the Vancouver Harbour while enjoying a selection of BC craft beer, a "build your own snack bar" and dance the night away on the 3000-foot topside sundeck to music provided by the onboard DJ.
Tickets are $45 and are available here.
Events continue to be added, so keep checking back for the latest information on all the City Wide Events page!
VCBW Festival – PNE Fairgrounds – June 8th & 9th
SATURDAY – Time to kick this craft beer week into high gear! I mean, you don't win the 2018 Golden Owl Awards Social Event of the Year, the 2018 Growler Awards Best Beer Festival/Event and the 2019 Georgia Straight Golden Plates Best Beer Festival if you don't know how to throw one hell of a party!
It all gets started on Saturday at 2pm when the gates officially open to the public and over 100 breweries and cideries start offering up samples of their latest and greatest creations. This event runs until 7pm so there is no need to rush as you make your way around. Some true festival purists will research the brewery map and put together an action plan of all the ones that they want to make sure they hit and others will meander with no rhyme or reason, sliding into whatever line up is the shortest.
Whatever your plan of attack is, you can rest assured you are going to get the chance to enjoy some seriously delicious beer, and cider, all while a non-stop soundtrack of groovin' music fills the air. Friday will feature a number of local performers such as: Campfire Shitkickers, The Carnival Band, DJ Sheldon Knight, Hip Hop Tricycle, Spillionaires, Mark Woodyard & Friends, Vinyl Ritchie and many more.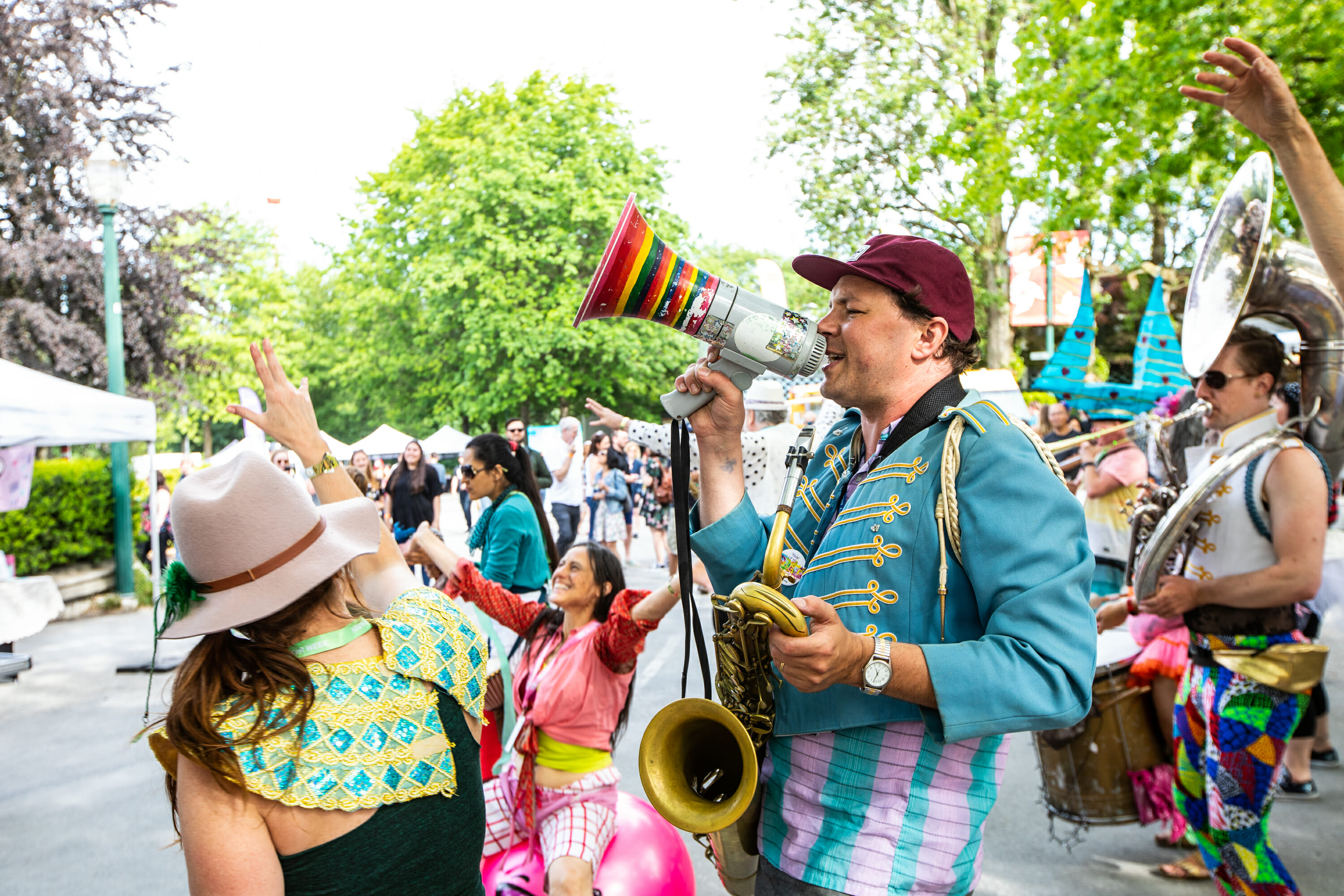 If all that beer drinking and involuntary toe tapping makes you hungry, you can expect a plethora of food options to keep your sustenance levels up! So how many food trucks would you consider "a lot' at a beer festival? Six? seven? How about a whopping 16 options!! That's right, you will get to choose from all of these mouthwatering providers: Bandidas Food Truck, Big Day BBQ, Big Red's Poutine, Cheese Please, Come Arepa, DownLow Chicken Shack, Greek on the Street, Henry's Hip Eats, Holi Masala, Old Country Pierogi, Waffles with Benefits, Porky's German Sausage & BBQ Pulled Pork, REEL Mac and Cheese, The Reef Runner, Triple O's and Wings Outdoor Grill!!  No matter what your preferred tastes are, they've got you covered.
Typically known as the 'slightly quieter day' at the fest, the Sunday event gets going at high noon and goes through until 5pm. While all of your favourite breweries, cideries and food trucks will return for round two, the second day will feature a fresh line up musicians including BB, Dead Soft, Hebegebe, Rain City as well as encore performances by Mark Woodyard & Friends, Young Friend, Woodhead and more!
Be sure to check out the live interactive Painting by Vancouver Mural Festival, kick back and relax in the Go RV'ing camp style lounge complete with one of their retro trailers, check out the BC Ale Trail-er pouring beering from ten craft breweries from the furthest reaches of B.C. and the list of cool stuff just goes on and on!!
Regardless of which day you choose to attend, I can all but guarantee a memorable experience that will have you planning your return next year!
Whether you are a seasoned beer enthusiast visiting for your 10th year in a row or you are completely new to the craft beer scene, this event is for you. Take it from my wife Theresa who for many years, swore that there wasn't a beer out there for her, then at the 2018 Festival she officially became a beer fan after sampling a number of the fruity and sour beers being poured. It was the best day EVER! And the rest, as they say, is history.